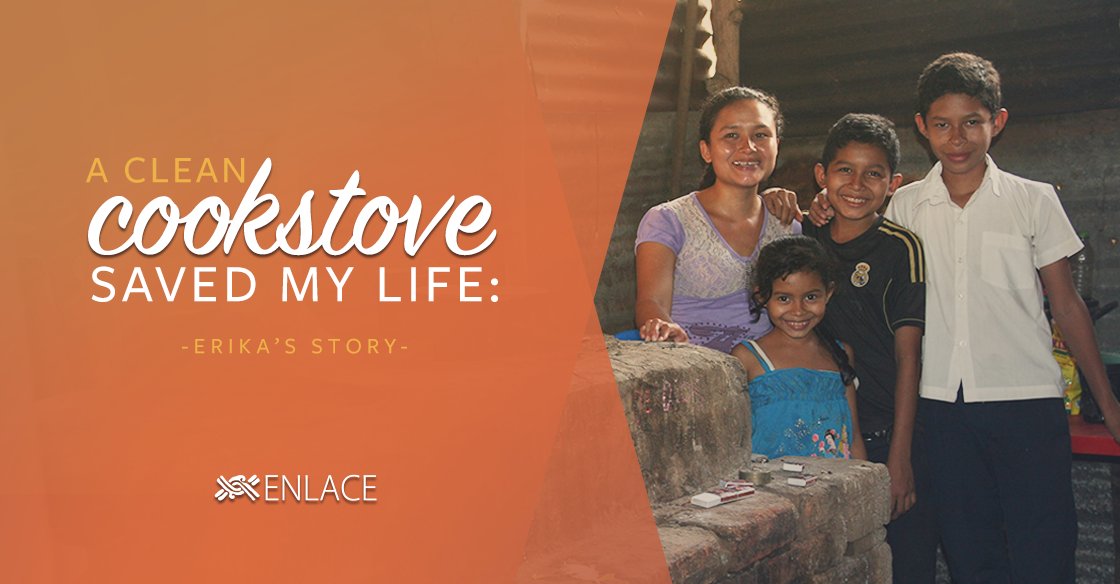 Getting up before dawn amidst the growing cacophony of doves, pigeons, droning insects and waking roosters, Erika, a young mother of five children living in the rural village of Caluco, El Salvador, would coax a fire to life over an open cooking hearth in her living room.
After setting an enamel pitcher on to boil for coffee, using beans she'd grown and picked herself, she would begin to make fresh tortillas for her family, cooking them on the same type of comal (griddle) used by her grandmother.
The scene could be considered a gentle idyll if it were not for the red-rimmed eyes and coughing that accompanied the process every single day.
For most mothers like Erika, who reside in the rural countryside of Central America and other poor parts of the world, a typical day doesn't start with homegrown coffee or warm tortillas. It starts with smoke.
The Problem of Smoke
According to the World Health Organization (WHO), over three billion people worldwide - mostly women and children -breathe in deadly smoke from home cooking fires every year. Repeated exposure causes eye, skin and respiratory infections.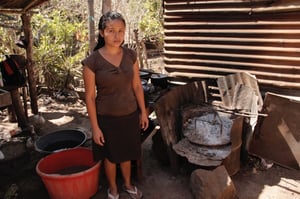 And because the smoke penetrates deep into lungs and cardiovascular systems, kitchen smoke also produces devastating illnesses such as heart disease, stroke and lung cancer.
In El Salvador, 18 percent of all deaths of children under the age of five are attributed to acute respiratory infections (ARI) which are primarily caused by smoke inhalation. ARIs are also responsible for approximately one-third of the outpatient visits to rural clinics which takes a great toll on a family's well-being, emotionally and financially.

The health of adult women is also at great risk. Women across the globe are primary caregivers, and mothers labor for many hours a day over open fires, fires that typically produce about 400 cigarettes' worth of smoke an hour.

For Erika, a lifetime of breathing 400 cigarettes' worth of smoke daily had taken a heavy toll on her health.
"A doctor had diagnosed me with a heart problem. He said that it was becoming very agitated from the smoke inside our house...[and] I was running the risk of having a heart attack. I knew it was grave, but I had no idea what I could do about it. I have to cook for my family. We all have to eat. We are very poor, and so we could not afford to buy a gas stove or the gas it takes to use it."

"The challenges to Erika's health also included anxiety, which was felt by everyone in the family," said Dr. Evelyn Berdugo, ENLACE's Health Program Coordinator. "She is like many Salvadoran women, who fight every day to make life better for their children. Her health condition tormented her day after day due to the worry of leaving them alone."

"I knew my children worried," said Erika, "but I also worried about them; they are my greatest treasure! I want to live to see my grandchildren. So I asked God to put a hand on my body, and I trusted him for a miracle."
The Miracle of Clean Air and Good Neighbors Near and Far
Erika's miracle came in the form of a group of volunteers from Iglesia Mahanaim, a local church that had been working with the Caluco Community Association.
With ENLACE's training that included how to conduct baseline community surveys, the volunteers began to identify many families like Erika's in the community who were facing serious health issues related to smoke inhalation. They also began to note the number of hours spent gathering firewood and track the price of buying it.
Curious how an Eco-Stove is built?
Click the button below to watch the construction of an Eco-Stove!

Although most community members weren't aware of all the statistics of deforestation in El Salvador, they were keenly aware of the scarcity of trees and their constant search for leña (firewood).
National figures indicate that buying wood for cooking costs an average family up to 25 percent of their income and can consume 20% of a person's energy to acquire and process in El Salvador.
Additionally, the overuse of wood has contributed to deforestation which will have long-term, devastating environmental effects. Water tables are affected as well as local wildlife and the quality of the soil; all important elements to rural living.
With Erika and other mothers like her in mind, the Mahanaim Church and community volunteers began to plan a community-wide eco-stove project.
Working with ENLACE technical advisors, they finalized an eco-stove design that would use local materials and not change typical cooking methods. Their implementation plan also included raising half of the project's price tag through funds, labor and materials.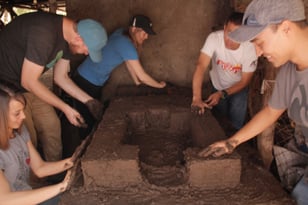 After identifying and prioritizing the most at-risk families, church and community leaders asked if Erika and her family would like to participate. Under ENLACE's model, all families are asked to participate in training workshops together with other participants and to help build the eco-stoves together in groups.
Erika was overjoyed. She along with her children joined the project and together with all the volunteers, they raised funds and donated as much as they could themselves.
The remaining funds needed were matched by a church from North America that has partnered with ENLACE for many years. When the construction portion of the project got underway, the partner church sent a team to join the experience of building an eco-stove.
They joined with Erika and her family for one week and helped to build her eco-stove.
Watch a video of one international partner's experience traveling to El Salvador to join an eco-stove project.
To Erika, the whole process was full of wonderful experiences. "When the church reached out to me, I was surprised...[and] [w]hen all their volunteers arrived with the materials and to help me with the construction, I was so happy to see the crowd that was visiting me."
Unlike some cookstove solutions introduced by foreign aid groups that sometimes don't take into account typical ways of cooking, Erika's clean cookstove was designed in El Salvador and was the product of neighbors reaching out and caring for each other.
"After the eco-stove was built," said Erika, "[my neighbors] even cooked for me using the same comal [griddle] that I used before!"
Clean Cookstoves Address Poverty at the Root, Paving the Way for Community Transformation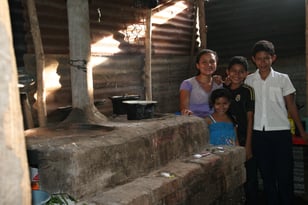 The changes that came to this small rural town in El Salvador through a project spearheaded by a caring local church that's well-connected to its neighbors, local government and other organizations are not uncommon in the communities where we work.
Every year, a growing number of churches working with their Community Associations have identified the opportunity to help their neighbors with clean cookstoves, giving thousands of people the gift of clean air. And these locally identified and managed clean cookstoves are just one of the ways churches are reaching out to solve the root causes of poverty.

According to Dr. Tedros Adhanon Ghebreyesus, the Director-General of WHO, improving the quality of air in the home environment is fundamental to community transformation. He states that as long as "women and children are still breathing deadly smoke every day from using polluting stoves and fuels in their homes...we will never come close to achieving sustainable development."
At ENLACE, we take it a few steps further.
ENLACE works on the assumption that any community development project has to "come from within" and embrace the "power of with."
"In every development project we implement," said Ron Bueno, ENLACE's Executive Director, "the *how* is as important as the what. What ENLACE aims to accomplish through every project is to develop trained, effective and passionate servant leaders who understand themselves as the embodiment of God's love, working with their communities and able to connect to local government offices and other strategic partners in order to build lasting change on a community and regional level."
Erika now wakes up to a morning that is totally the same and totally different.
"I went to the doctor again," said Erika, "and he ran some tests. When the results came back, he was surprised! My heart was improving, and he said that I was free from the risk of attack. I could feel that my heart wasn't agitated anymore. I told him that I was grateful to my God because an improved stove saved my life."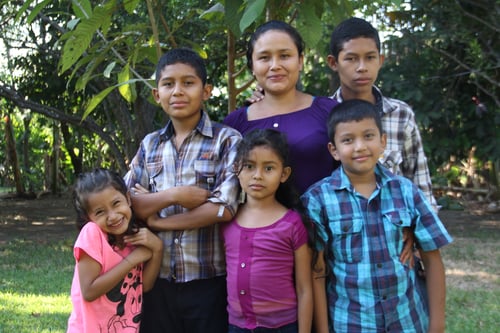 Join U.S. Schools, Churches and Businesses & Start Your Own "Cooking Up Love" Campaign!
All donations are tax-deductible in the U.S.