Laura and her family used to live in an adobe house in the countryside of El Salvador. After an earthquake, Laura's life turned upside down. The home was destroyed and only part of the kitchen remained intact.They had no other place to live. Then Laura's husband left the family, and she faced raising a two- month-old baby and three other children alone.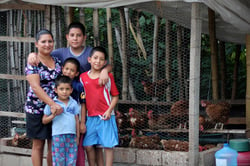 For five months, Laura and her children lived in the rubble. They were even robbed of the little they had. Even though Laura prayed with her children every day for a miracle, she was alone and very frightened. During that time, a church in the same community where Laura lived began a partnership with ENLACE. When its leaders went out to talk to their neighbors, they met Laura. Soon a housing project began and the church invited Laura to be a part of it. However, in order to receive a home, she needed a plot of land to build on and a family member to help with labor. Both of these requirements seemed to her impossible. She didn't own anything, had no formal employment, and was a single parent with no one to help her. But, miracles were on the way.

After learning of Laura's situation, a member of the church donated a small piece of land. And when the project moved forward, Laura's husband returned to help build. Laura remembers feeling overjoyed at first, but when her mother unexpectedly died and a close friend had a bad accident, she was tempted again to give into despair. The days were hard. The grief for her mother and friend overwhelmed her and the work of trying to reconcile with her husband took its toll. But, Laura was not alone.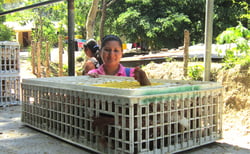 Laura turned to church members, who now had become very close friends, for comfort and guidance. Over the next few months, the home was built. Slowly, Laura and her children felt like life was coming back together. Laura and her eldest son, Henry, took advantage of every opportunity they could to improve their lives. When the church began its home garden project, they were the first in line to receive training, seeds and technical assistance. They now have a thriving garden that provides enough nutrient-rich vegetables for them to eat and to sell. They also participated in both a chicken coop initiative and tilapia farming project. Both endeavors provide consistent sources of food and income.

For Laura, life is now sweeter and more promising than it ever has been. The work of a caring and equipped church has led to spiritual peace and physical wholeness for her, and she is incredibly thankful.
"My home will always be what God used to make me realize that He took care of us and my children...As time goes on, [God] shows me his mercy for my life and I know that [I can't] be grateful enough...The Laura of five years ago is not the same now. I share and testify what God has done and nobody can believe it."