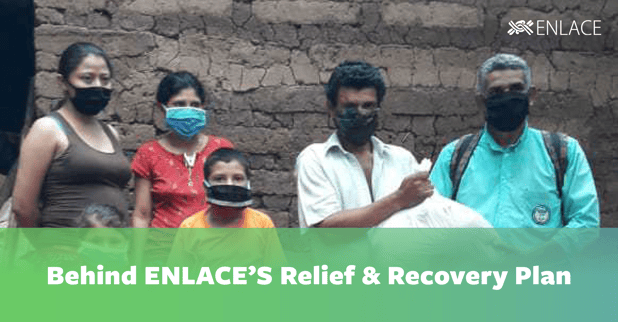 Historically in March, it became clear that COVID-19 would become a global phenomenon, shutting down entire countries and creating challenges that would impact the world for years to come. Immediately, ENLACE changed its course for 2020 -- assessing how best to respond to the communities we serve. This led to us swiftly shifting from a community development focus to a relief and recovery initiative.
Unique Challenges for Communities on the Edge
While COVID-19 has been challenging for the U.S. and other Western countries, its impact on developing countries has been absolutely devastating: setting impoverished communities back for many years to come. With many governments unable to provide emergency funds, citizens have been left without drinkable water, safe food, or access to quality healthcare. The healthcare systems in El Salvador, Nepal, and Guatemala are not infrastructurally equipped to take on the large-scale effects that this pandemic encompasses. The economies in these developing nations are not secure enough to take the financial hits that have come with lockdowns. In short, the pandemic dramatically increased the number of families living in extreme poverty. ENLACE is, and has been since March, needed now more than ever.
Our new plan encapsulates relief and recovery efforts for 2020 and beyond. In hope of reaching as many families as possible that are facing hunger, ENLACE is maximizing its networks by collaborating with Life.Church, Viva, Tearfund, and Convoy of Hope to provide 5 million additional meals to 6,000 vulnerable Salvadoran, Honduran, and Guatemalan families. Additionally, we continue to work in Nepalese communities, providing hundreds of families with daily meals.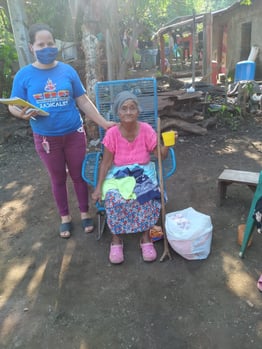 Identifying the Most Vulnerable Families
Thousands of families worldwide are struggling with basic needs, such as food and hygiene supplies. Since the future timeline of returning to work is unknown for many, families may be in-need for multiple months.
It is vital for church and community leaders on the ground to identify and care for vulnerable families. In order to do this, we have created a digital questionnaire that families can complete by phone. This tool allows church and community leaders to provide strategic and effective care to those in most need by understanding their devastating conditions first-hand. Thus far, our network of church and community leaders have identified over 14,000 extremely vulnerable families in El Salvador, Guatemala, and Nepal.
Short-term Community Plans
ENLACE staff is working with church and community leaders to create short-term (3-5 month) plans for their communities. Once we have identified and categorized the needs of our families, public and private organizations are able to provide them with food and health services. We've teamed up with Red Cross, local mayoral offices, and civic associations to help us deliver these necessities. This plan will help identify the needs of each family per week, while also tracking which families have already received assistance. As of mid-June, over 57 churches have worked alongside their local leaders to complete these new community plans in El Salvador and Guatemala.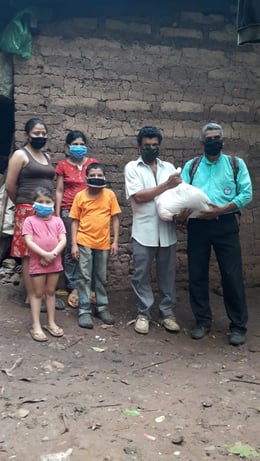 Food and Hygiene Distribution
As of June 26, 2020, ENLACE purchased and delivered food and hygiene products to 1,010 families (5,050 people), totaling 151,500 meals in El Salvador, Guatemala, and Nepal. Additionally, our local church and community networks have mobilized and leveraged LOCAL resources to serve 7,053 families (35,265 people) with 1,057,950 meals!
TOTALS AS OF JUNE 26, 2020:

Families: 8,063 People: 40,315 Meals: 1,209,450

ESTIMATED TOTAL BY SEPTEMBER, 2020

(working in collaboration with Life.Church, Tearfund, Convoy of Hope, Willow Creek Community Church & Viva):

6,309,450+ Meals
Storm Amanda Update
Storm Amanda hit the coasts of El Salvador and Guatemala on Sunday, May 31, and remained in the area for the following 10 days; this caused widespread flooding and mudslides. As you may imagine, pandemic relief efforts were curtailed, as it was impossible to make community visits. Nevertheless, some of our partnering churches opened their doors to shelter newly-homeless families. ENLACE provided mattresses to these churches. We are also donating corrugated laminate steel that will be used to repair and fortify damaged homes.
Turning Toward Small Business Recovery in El Salvador Through Microfinance Recovery Loans
Now, our attention is broadening towards recovery. ENLACE is helping small business owners to rebuild their livelihoods. El Salvador is experiencing an unprecedented economic crisis. More than 3,500,000 (72%) Salvadorans survive off of informal micro and small businesses operations. As the stay-at-home orders persist, now for the third month, the majority of these small businesses have been unable to operate. As the economy slowly begins to reopen, we aim to assist entrepreneurs with emergency microfinance recovery loans and business consulting services through our sister-organization, CREDATEC.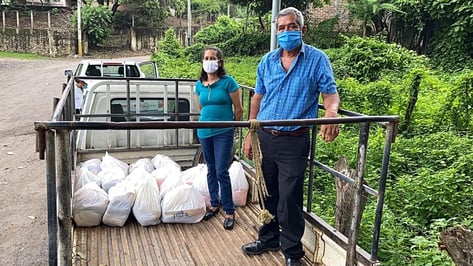 Agricultural Assistance
Meeting with church and community leaders, we have assessed the agricultural challenges that small-scale producers are facing. Fifty percent of El Salvador's population survives off of agricultural production. Small-scale farmers cultivate beans, corn, and sorghum for personal and financial subsistence. We are currently identifying which farmers are in need of seeds, fertilizers, and other inputs. We are coordinating with local and state Salvadoran governments to facilitate the distribution of these products. We are also exploring individual projects, such as home gardens, to ensure food security for the next 12 months.
---
YOU can save lives in El Salvador, Guatemala, and Nepal -- without even leaving your home!
We rely on donations in order to accomplish this critical and life-saving work. Since our main fundraising events have been cancelled this year due to COVID-19, it is crucial that our supporters join us in this effort.
We ask for your help.
To help families in need, CLICK HERE to donate. If you're interested in becoming a monthly coffee donor, CLICK HERE.
---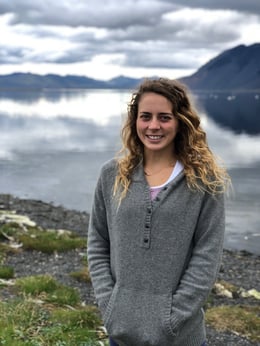 Elizabeth is a student-researcher and writer who believes in a just and equitable world for all. Her interests include gender studies, sociology, and cultural anthropology. She is passionate about feminism, environmentalism, and opportunity equality. After graduating, Elizabeth hopes to continue pursuing her education and research abroad.