by Josh Fieldson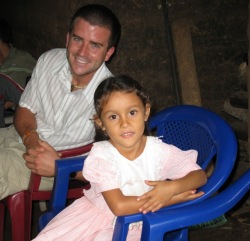 Suffocating; That's the only word I can use to describe Nina Chana's kitchen. Like the majority of Salvadorans living in rural areas, Nina cooks inside, over an open fire. While this method of cooking seriously harms the health of Nina's family and families alike, it has been the only method used for generations. ENLACE is helping families change this. ENLACE's eco-stove project is creating a healthier future for Salvadorans living in rural areas through improved stoves that reduce respiratory infections by eliminating indoor smoke.
This summer I spent two months with ENLACE in El Salvador. Out of all the many families and individuals I met, Nina Chana in La Bendicion, carved the most special memory in my heart. In La Bendicion, I accompanied a team from a US that was building eco-stoves. Nina Chana's family had been identified by the local church and community as a family with a significant need. When we approached her home, it became apparent why. There was smoke billowing out of a small window, and when we entered, the room was dark due to the thick blanket of smoke that covered it wall to wall. It was hard to breathe in the midst of all that smoke and it hurt me to think how her family experiences that suffocating feeling every day. The tin roof covering her kitchen was black and I couldn't help but think what color her lungs must be, and how her grandchildren's coughs could be attributed to the process that it takes to provide them a small meal.
Indoor air pollution due to unsafe cooking methods kills more than 1 million children each year in developing countries. That's more than HIV and malaria and second only to water-borne illness.
For the past 6 years I have been studying Community Health in Long Beach, California, and through my studies and service with ENLACE, have developed a heart for church and community health projects. Before traveling to El Salvador for the first time 5 years ago, health projects to me meant creating a strategic way to motivate people to get off their couch, eat healthier and quit smoking. And then I traveled to El Salvador and saw how ENLACE, through the Church, is helping communities develop sustainable solutions to poverty, like clean water systems, latrines, and eco-stoves; vital solutions that provide families an immediate opportunity to live a longer, healthier life.
What a project like Nina Chana's new eco-stove represents is more than just a healthier future for her family, it shows that the local church is moving and serving, and is the primary agent in the community's transformation. Yes, her family's new eco-stove will reduce respiratory infections (60% reduction), save them money on wood (66% less wood use), and decrease deforestation (El Salvador is one of the most deforested in the world), but more important are the relationships built between church and community through the project's implementation. These relationships are key ingredients for cooking up real and sustainable community transformation.
Click here to make your tax-deductible donation today!