Dora Santos lived in a simple home with her parents, her son (Abner Vladimir, 33) and grandson. Four years ago their window and door was broken into, and they were robbed of the few possessions they had. Her son went out to look for those responsible, and he was killed by them. Along with the terrible burden of grief, Dora became the main breadwinner for her household. Her meager income that came from selling beans, corn and tomatoes on the street was not enough but they all worked hard to manage. A year later, her father died after struggling with the effects of Alzheimer's disease for two years.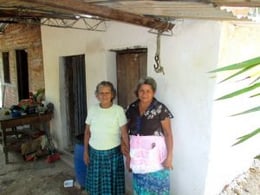 When the church helped to renovate her home, it meant much more than strong walls, tile flooring in place of dirt and a watertight roof. It signified a renewed sense of safety and consolation. She and her family were not just safer with a new door and windows but they also became more connected with members of their local community and church. These new and strengthened relationships will continue to provide Dora and her family with an essential network of support for decades to come.
The renovation of my home means so much to me. I would never had been able to live with safety unless someone helped me. Mostly I am just glad my grandson now has a safe place to live".