Over the weekend we were forced to say goodbye to a great friend and colleague. On Saturday, April 16th Oscar Alexander Vasquez (Alex) died instantly in a motorcycle accident. I continue to struggle to try to understand and process his death. I met Alex when he was 14 years old. He was a youth leader in Pastor Miguel's church El Buen Samaritano. Shortly after I met him, he shared his life story with me.
He had a very difficult childhood and adolescence. His mother died when he was young and his father was an alcoholic. He lived for periods of time in the street on his own and with other people. He shared with me that it was the love and kindness of Miguel's church to help with funeral costs and bury his dad that really convinced him of God's love for him. This expression of love also served as a call to service in the church. Alex served for many years as the youth leader at El Buen Samaritano church until he was called to lead his own congregation several years ago.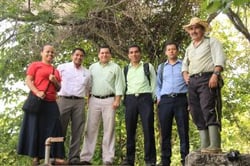 Along with pastoring, Alex was also involved as a leader of community outreach at Miguel's church from the very beginning. His heart was always to serve others so that they might feel the unconditional love that he had felt during the time of his father's passing. He profoundly believed that the heart of ministry is caring for those in need.
He told me on several occasions that his dream was to pastor and work for ENLACE. He worked hard to finish his high school degree and BA in Theology in order to apply to work at ENLACE. A couple of years ago he joined the ENLACE staff. He worked in one of the most remote areas of El Salvador and loved it! He was truly an inspiration to the pastors that he worked with and to our staff. He had a soft spirit and kind smile. He was always so positive and encouraging. He truly loved people and wanted them to experience the love that he felt from God daily.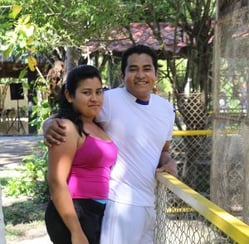 Alex is survived by his young wife Karina, congregation, friends and colleagues.
Alex was married to Karina a couple years ago. He had been pastoring his first congregations for five years.
As our entire staff tries to process his loss, I am reminded that he finally accomplished what he strove for all of his life: to be intimately close to God, to feel His presence continuously. It was truly an honor for me to have known Alex and to have worked with him. It was a privilege to see God's love and transformation in his life firsthand. I was so encouraged and inspired by his energy and excitement to see other people experience that transformation in their lives through the church. We will miss you dearly.
Alex, it is with great sadness that we have to say goodbye for now. But we look forward to seeing you again soon.
I ask all of you to please pray for his young wife, his congregation and for the entire ENLACE staff as we walk through these difficult and tragic moments.