Adela, her husband Leonardo and their five children (ages 4-15) have never had an easy life. Leonardo works as a gardener and is paid $6 per day. After paying for transportation, Adela is given about $4 for her to care for the needs of her family. Four of the five children attend regular school. However, their nine-year-old son, Quevin, is special needs and has to be taken by Adela to a school outside their community. Adela and Leonardo have also tried to give Quevin a quality of life that is very difficult to maintain by supporting his involvement with Special Olympics. The cost of this endeavor has made things more complicated but is extremely important to the family.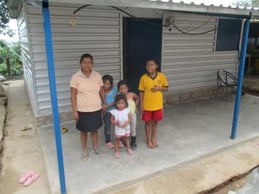 The new home that the family received with the help of the local church and community has made many aspects of life much easier. They are safer and healthier in an environment that has a proper floor, windows, electricity and front door. Their home is located in a very remote part of the community making collecting water a continued daily ordeal. Even so, the family expresses hope that since they now are connected to a group of people that are helping them, they will not be alone on their journey towards sustainability.

We used to live in a laminate house that was completely falling apart. I used to dream of having a real home and I knew that someone would help us. I've never lost hope.