This is a guest blog post by Don Day from Broadway Christian Church in Columbia, MO
My first trip to El Salvador was in May 2011 on an exploratory trip to see the work of ENLACE. I really didn't want to go, but God, in the form of a fellow parishoner said "you need to go because you are the chair of the mission committee."
On this trip, we visited several churches and saw the great things they were doing in their communities with the help of ENLACE and their church coaches. We were given details of the methods they use in working with the churches.
I have now made four trips to El Salvador. I am no longer nervous about going. My views of mission trips have changed over the years. I first thought the purpose was to go and work hard, helping with whatever project the church was working on. Since studying the work of ENLACE and studying a book called, Helping Without Hurting in Short Term Missions, my view of mission trips has changed. Now, I feel it is every bit as important to have fellowship with the people in El Salvador and to encourage them as it is to do manual labor on projects. Working side by side with the Salvadorans is important too as we cultivate friendships with them. Although we do encourage the people in El Salvador, I feel I am encouraged more by seeing their faith in action.
For example, we have worked with the Salem Church in El Espino. They are a church of about 83 members, 27 of whom are leaders in the church. Pastor Santos is the minister there. Examples of some of the things this church as accomplished from 2011 to 2015 are:
Road repair and retaining wall

Security wall at a school

Home construction for 25 families

133 Home gardens –

137 Tilapia ponds –

155 Chicken coops –

Establishment of a Medical team

Creation of an Infant Wellness Program

Building an addition to the church

Water filtration system at the church – providing safe water for the church as well as community members.


After school tutoring for children in the church, leading to jobs for community members
This is also the church where I was locked in the outhouse by Carmen, one of their members.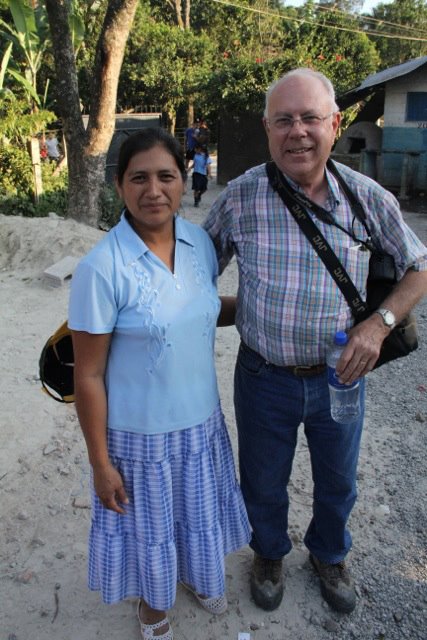 How can you get involved in mission programs?
Pray for mission teams and for ENLACE

Give financial support

Go on a mission trip - talk to your pastor about partnering with ENLACE and contact Christine at

cnolf@enlace.link
Why go?
You will make some very good friends in El Salvador.

You will make friends with people from our own church.

You will be impressed and inspired by the ENLACE staff.

You will be amazed at what local churches in El Salvador are accomplishing.

You might get to do things like Zip Lining on the group's day off from working

You might get to travel with a young man like Jon McGee, who, when you reach the next platform on the zipline, will say, "You are still alive."
Other reasons to go: Celebrate a milestone birthday. Celebrate a major anniversary like the Harters, a couple from our church, may do.
Go because is it the right thing to do.
I can almost assure you that you will not be locked in an outhouse.