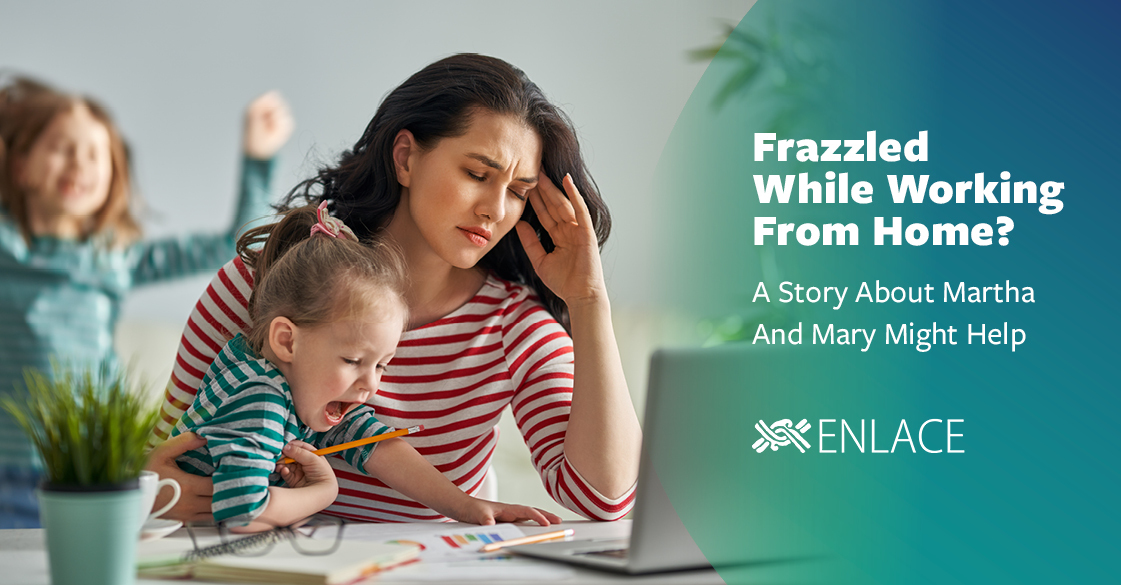 As Jesus and his disciples were on their way, he came to a village where a woman named Martha opened her home to him. She had a sister called Mary, who sat at the Lord's feet listening to what he said. But Martha was distracted by all the preparations that had to be made. She came to him and asked, "Lord, don't you care that my sister has left me to do the work by myself? Tell her to help me!"
"Martha, Martha," the Lord answered, "you are worried and upset about many things, but few things are needed—or indeed only one. Mary has chosen what is better, and it will not be taken away from her."
Luke 10:38-42 - New International Version (NIV)
I love this story for so many reasons. I love that Mary chooses to sit and hang out with Jesus. She seems to know the importance of the moment and is utterly present. I love that Jesus affirms Mary's (rather feminist) choice of defying sexist traditions that required women to serve men and not become educated. I also love that Jesus is such a voice of calm to harried and frustrated Martha.
In the past, the message has seemed very simple: sit at the feet of Jesus and stop worrying about everything. Recently, however, while struggling through a tough day in the middle of this Brave New Pandemic World, I reread this story and discovered something new.
This story of Martha and Mary is found only in the book of Luke. After Jesus' death and resurrection, small, complete stories (called pericopes) like this one were told and retold among members of the early church. The pericopes were part of an oral tradition. Eventually, many of these pericopes were organized and written down by Luke and other writers, becoming what we now call the Gospels.
Every gospel was composed for specific reasons and with particular audiences in mind creating what scholars term the "secondary setting." While the writers of the gospels had slightly different intentions for their works, the one thing they all have in common is the transformation of what was once an oral history of Jesus to something written with a reader in mind. And so for this story, while Luke didn't have a 21st century reader in mind per se, he would have known that people who did not know Martha or Mary or even Jesus would potentially be a part of his reading audience.
In this way, writer Luke brilliantly casts the story like a net, and as readers, we step into it with ease. We understand the setting: a party or gathering that is about to happen. We understand the people: Jesus - a sensation in Galilee, a traveling celebrity-teacher who performs miracles and is followed by crowds of groupies wherever he goes. Martha, the hostess who opens her home to him and his troupe. And Mary, the devoted follower. The scene-setting is brief, just two sentences. But we hardly get the dust off from the road and enter the house before it all comes to a halt with Martha.
When we read this story during our quiet time of devotion with our freshly brewed cup of coffee and Bible open on our knee, we like Jesus and Mary. Jesus is The Man. The Sage. The Messiah. And Mary. She's the picture of devotion. The insightful follower just like we want to be. And then there's Martha. Geesh! What a whiner! We certainly don't want to be her. "Lord," we pray, "let me sit at your feet today in everything I do. Amen."
But our tranquil morning moves head-on into reality. The car won't start. You're late to an appointment. The world is thrown into lockdown and our lives are upended amidst a global pandemic.
The quiet-time reading is a faint memory, especially after we've now made both breakfast and lunch for homebound children, got their studies going and a report off to the boss, all while facing piles of dishes encrusted with last-nights' spaghetti dinner (which we also made). Martha's experience comes to mind and we wonder.
Later in the afternoon, after finishing our sixth Zoom call, we're still in our pajama pants and can't find our spouse who was supposed to make dinner. We begin to reconsider our interpretation of Martha's experience in earnest. "Was she that far off base?" "Couldn't Mary have helped a little? (Where is my lazy husband, anyway?)"
The writer's net is cast and we're caught. We desperately want to be Mary in this story, but the reality is we are Martha. We are weary and frustrated. Anger is simmering on the back burner. Instead of hearing Jesus' words as soothing, we are confronted with ourselves and are repelled. We have become Martha the loser-whiner. And as the day's craziness reaches its crescendo, we're just plain annoyed that this story is in our Bible at all.
So the question is: Why was this story told and retold by the early church? Why was this particular story, undoubtedly among so many other stories that were out there, immortalized by Luke?
When you think about it, he leaves so much out. We don't know if Mary might have done some work beforehand and only later decided to sit down. We don't know much about Martha when it comes to entertaining. Did she always pull this kind of crap at social gatherings? Is she that tiresome relative who tries to control every detail of a family holiday and ends up making everyone miserable? And on the other side of things, we don't know how far in advance Jesus and his crew let Martha know they were crashing at her place. It wasn't uncommon for these crowds to gather en masse with only a couple loaves and fish between them. We all know that hosting a big gathering last minute can be difficult. And were there more people than Martha's house could accommodate? Was a small soiree turning into a block party?
So many questions that we don't have answers to and I wonder why Luke isn't super descriptive here like he is elsewhere in his book. Did he run out of ink or vellum? Did he break his quill?
Comic relief aside, judging from the careful description elsewhere in his book, Luke must have had good reason to leave it out. Perhaps he presents such a spare pericope because he is well aware that readers will supply all the backstory needed to understand its message.
Luke knows that everyone can identify with Martha's frustration and subsequent anger.


Especially now, as we face and struggle through a strange new reality of lockdowns, death counts, financial worries, and social distancing. Luke's narrative also counts on the yearning we all have to be Mary who genuinely basks in Jesus' presence, restful and at peace. These two elements both pin us down and help us to own up to our own experience.
With our human backstory, we arrive at the heart of the narrative. But what we find out is that this story-heart isn't focussed on Martha's work in contrast to Mary's nonwork. At the story's center is Martha's frustration boiling over into a hurtful, public, "throw-my-sister-and-Jesus-under-the-bus" sort of moment.
If this gathering was like others preserved in the gospels, we can imagine that Jesus is at the center of Martha's home teaching while people like Mary are sitting around him. When Martha goes to Jesus, she is doing so in front of everyone. Instead of simply asking for help, her words are intended to shame both Mary and Jesus; Mary for laziness and Jesus for not caring enough. But instead of leaving Martha as a caricature of an overwrought hostess, Luke has preserved the furtiveness of Martha's situation and humanized her through Jesus' response.
"Martha, Martha," Jesus responds. He says her name twice. To me, this phrase seems to capture such an intimate moment between close friends. It is so clear that Jesus is expressing a deep love for Martha, a lot like a mother embracing her child. Second, Jesus affirms Martha's experience. She is upset and worried over so many things. He gets it. He understands the heaviness of it all.
Both the early church and Luke knew that in Jesus' presence there was power. Power to heal; power to forgive; power to transform. That's why they told and retold this story to each other during those early church days. That's why Luke preserved it for us. They knew Jesus wasn't calling Martha out for working too hard. Everyone knows jobs have to get done; Dishes and laundry washed; Reports written; Accounts balanced; Bills paid. We are all Marthas, weary to the bone and needing help.
The story made the cut and is in our Bibles today because being tired and weary isn't something we choose. It's the way life is. And we all will so very often choose the next action which is what gets us all into trouble: lashing out at our dearest family and friends with resentment and anger. Our early church friends and Luke loved to tell and retell this story because Jesus was giving us all a way out from this mess and it wasn't more shaming.
"You are worried and upset about many things, but few things are needed—or indeed only one."
For me, these words of Jesus, told and retold among his followers and preserved by Luke's pen, travel over the centuries into my heart. Like balm I am healed, forgiven, and transformed.
Indeed we only need one thing as we face this unprecedented time of global fear and anxiety, even as we work, clean, teach, and care for others in new and different ways. We can recognize that even in our weariness, we are not forgotten as we toil. We are seen. We are not alone. We are loved and we can love. And this is a better way.
---
ENLACE is hard at work responding to COVID-19 in impoverished communities.
You can make a donation directly to ENLACE's COVID-19 relief and recovery efforts here or with the button below.