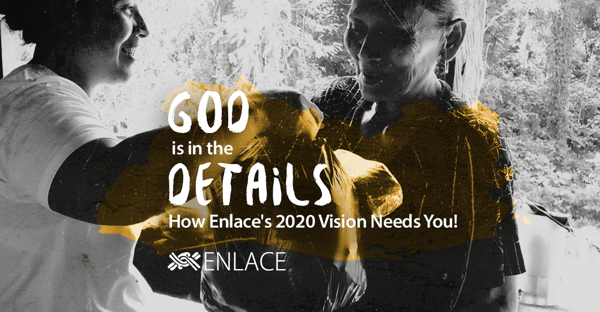 Whenever people ask me to talk about what it's like working in church-based community development, I always respond first by saying it's the best job in the world. I say that because I have one of the best seats in the house to witness God working in so many contexts. I've seen people who, despite their own poverty, reach out to others in love and sacrifice. I have seen people with wealth and power choose humility and service as a way of life. These people move me in ways no career accomplishment ever could. Living a life with a front row seat to God's transforming power is a blessing indeed.

But one of the coolest aspects of this blessing has been to work with partners and donors who are committed wholeheartedly to a vision that isn't glittery. Poverty isn't beautiful or a fashionable place to make a career. Poverty is savage and heartless. It is the antithesis of God's intentions for Creation. It brings up anger in me almost as often as it brings compassion. And so partners and donors who have donated to and served with ENLACE over the years, provide me with inspiration and excitement. I know that they, like me, are committed to seeing and participating in something REAL.
First off, thank YOU for partnering with us in this grand adventure. And while the next few words aren't glittery, I'm pretty sure you are interested in knowing the cool things ENLACE has envisioned for the future.
As you know, the last five years we've worked towards making the ENLACE methodology scalable. So many churches were on our waiting lists and at the close of 2015, we celebrated amazing growth. We more than doubled the churches serving their communities in El Salvador from 32 to 79, trained 4,179 church leaders, implemented over 4,001 projects and impacted 164,283 people on an ongoing basis. We also expanded beyond El Salvador to Nepal, one of the poorest countries in the world. We began working with eight churches impacting the lives of 3,500 people in 3 communities and that has already grown.

Now, in the next five years, we want to grow and continue to see REAL transformation. We want to measure and document the impact that your money, people's work and God's blessing is making. We want to see people emerge from extreme poverty for good. We want to see people's lives saved and their quality of life improve dramatically.

Using our years of collected data from community baseline studies and the help from professors at Wheaton College (IL), we've created a household poverty index. By gathering and analyzing the data based on this index, ENLACE will better serve and empower churches and their communities. Additionally, I continue to spearhead research on the effects of civic involvement and social change. Through these and other ways, we will help church and community leaders focus their attention in certain sectors of the population and in specific areas of opportunity. This will help churches to become more effective in how to plan and engage their communities. The studies will also measure outcomes and show that how we are addressing an issue is actually improving people's lives in the longer term. Fundamentally, we want to see ENLACE grow, and we want to see it become more and more solid in its methodology.

I know this can sound boring. But in a world filled with empty promises and lackluster results, I really hope it makes you excited.

More than anything, I hope that our intentional work will encourage you to continue to give to ENLACE. We need and want your partnership in this great adventure!

Very soon, ENLACE will hold its annual 2016 VISION 2020 GALA and I would love to see you there! We will have videos and special speakers. More info at this link and more info in the following months.