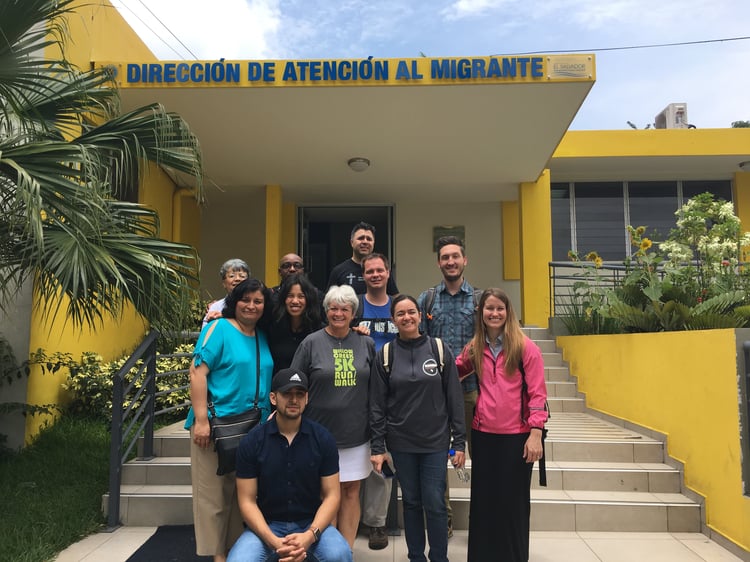 The better part of my career—working for more than a decade with World Relief—has been focused on challenging and equipping local churches within the United States to respond in biblically-informed ways to the arrival of immigrants. I believe passionately that the Church has both a clear Scriptural mandate to welcome immigrants and a remarkable opportunity, as immigrants have so much to offer both the Church and the nation.
A week in El Salvador last week served to reignite my passion for seeing the American church stand with immigrants. Alongside a team of leaders from Willow Creek Community Church and several members of the ENLACE staff, I had the chance to learn from many Salvadorans who had spent time in the US and subsequently returned home. We heard encouraging testimonies of local churches in the US welcoming them at times of difficulty. But we also heard from those who were never welcomed by a local Christian community (or anyone else), who ultimately left under dire circumstances, ashamed to have risked so much to find safety and sustenance in the US, only to return empty-handed. Holding back tears as I listened to a young mother named Norma haltingly share the horrifying details of both the journey to the US and of how she was isolated and mistreated by an employer upon arrival, I could not help but wonder: what if a local church had been there to walk alongside her?
When individuals make the difficult decision to leave their homelands—whether fleeing poverty, war, gang violence, a natural disaster, or any other menace—we should respond with welcome.
The stories we heard, though, strengthened within me an ever deeper conviction: if we really are going to take seriously the biblical Great Commandment to love our neighbors (Luke 10:27), we must also do all that we can to eliminate these conditions that make people feel compelled to flee in the first place, leaving behind their homes, their local churches, and, often, children, parents, or other immediate family members. I believe God weeps with the father who feels he must choose between leaving his small children behind or staying and watching them waste away from malnutrition. Alongside the mother who sends her teenage son alone on an atrociously dangerous journey through Mexico to the United States—lest his life be taken by gang violence. With the pastor who, rather than violate his conscience by taking up arms with either side of a civil war, decides he must escape to safety.
Our brief visit to El Salvador, hearing story after story of such excruciatingly difficult decisions, was heavy—but not without hope. That's because, in each community we visited, we also met local church leaders who are working tirelessly to address these "push factors" that tend to drive migration. These innovative churches, equipped and trained by ENLACE staff, have reoriented toward a holistic sense of mission that seamlessly integrates word, deed, and being, proclaiming the hope found in a relationship with Jesus while also demonstrating His love by helping to meet basic human needs in collaboration with community leaders.
I think of Fernando, who spent years supporting his family by working hard in the US, but returned when his daughter—whom he had left behind as a three-year-old—begged him to return for her quinceañera. He did, knowing he would likely never be able earn in El Salvador what he had making roof trusses in Kentucky, and nervous that he'd be forced to return to the US to support his family. Thanks to a local church working in collaboration with ENLACE, though, Fernando is now happily back home; he and his wife are raising 1,200 chickens and two cows, and his daughter is finishing her final year of college, studying to be a veterinarian. Fernando no longer feels he has to choose between providing for his wife and daughter and being physically present with them—and he's developed a growing friendship with Pastor Jose, whose local church, in partnership with ENLACE, helped introduce the poultry production initiative to him and various others in the community.
"The poor you will always have with you," Scripture tells us (Mark 14:7), so it's fair to presume migration under desperate circumstances will always be a reality as well, one to which the Church in the US must respond in ways faithful to biblical teaching. But if we are to genuinely love our neighbors, we must also do all we possibly can—partnering with those on the ground—to alleviate poverty, conflict, and violence in El Salvador and elsewhere, so that as few people as possible ever feel forced to make the decision to emigrate. Thanks to local churches like Pastor Jose's and the team at ENLACE, fewer and fewer are being faced with that choice.
Matthew Soerens serves as the U.S. Director of Church Mobilization for World Relief. He is the co-author of Seeking Refuge: On the Shores of the Global Refugee Crisis (Moody Publishers, 2016) and Welcoming the Stranger: Justice, Compassion & Truth in the Immigration Debate (InterVarsity Press, 2009).