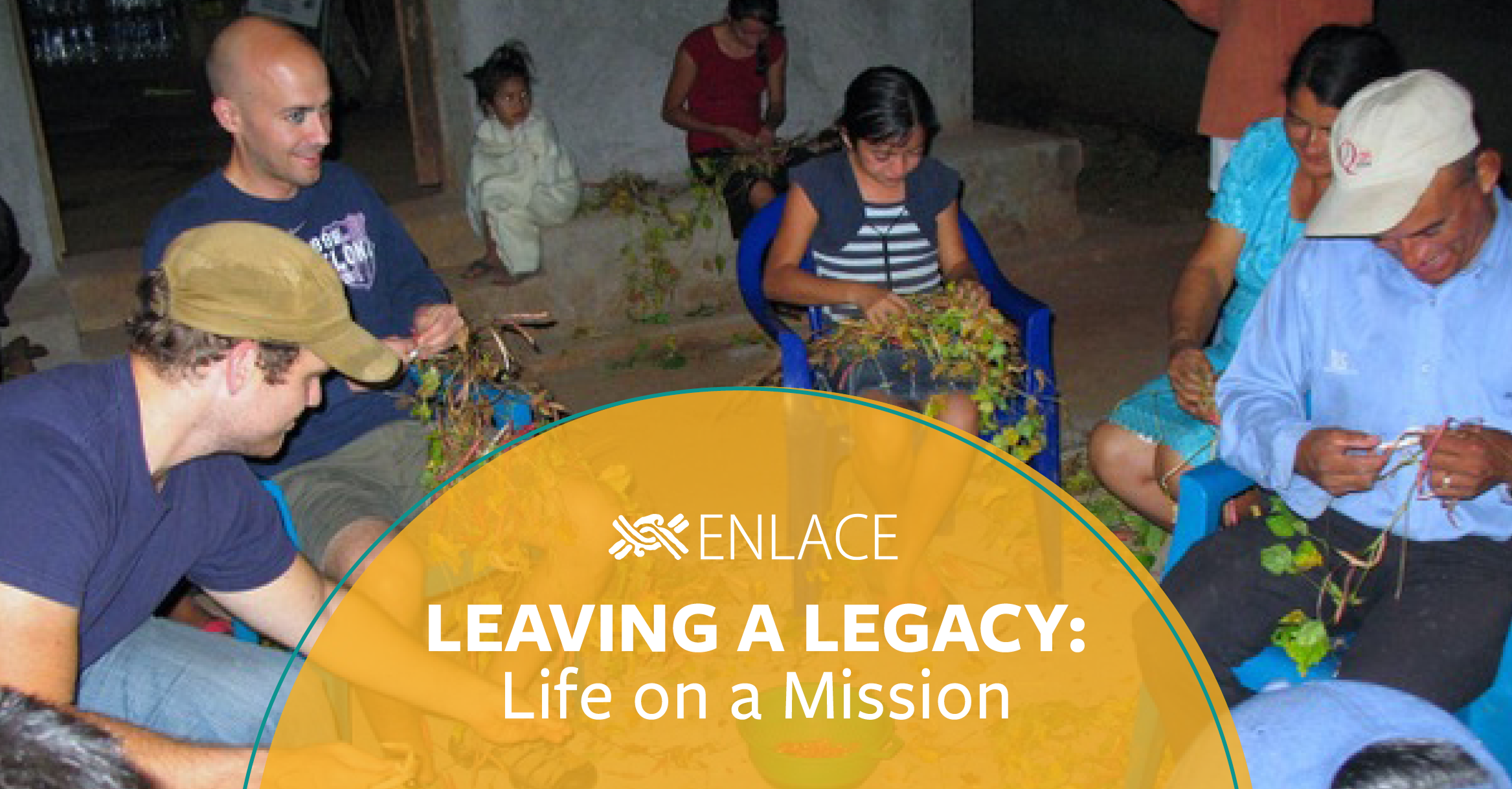 Burger King and beans. That these bookended the life that my family and I shared with others while living in El Salvador may prompt you to think that this post is about the gastronomical changes we experienced while living abroad. To be sure, our eating habits were altered a bit. But this is not a culinary tale. Rather, it is a story about the transformative and lasting impacts of hospitality.
Learn About Ways You Can Partner With ENLACE
First, Burger King. My wife, Rebecca, and I arrived in El Salvador sometime in early January of 2000. I was there to complete a year-long research project for my doctoral studies in cultural anthropology; Rebecca would be working full-time as an English-as-a-second language teacher in a private, elementary school. Although my memories of our initial days and weeks in El Salvador are quite hazy at this point, I do remember the impromptu dinner invite we received our first night there.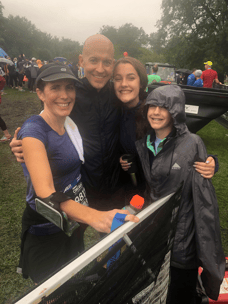 After spending a few hours with Ron and Michelle Bueno, we were given a ride to our new home by Jorge and Ceci Herrera. It was an awkward and humorous cross-cultural moment among complete strangers. Ceci, a private school administrator and public-school teacher, and her husband Jorge, an ENLACE staff member, did most of the talking. We responded as best we could with our still-not-proficient Spanish. Shortly after leaving the Bueno home, Jorge asked, "¿Tienen hambre?" Finally, a question we understood! A few minutes later we found ourselves sitting across from the Herrera family in a Burger King booth. Our first meal in the Land of the Savior was a Whopper Jr. with cheese and a side of fries. It was the first of many dinners, during which Jorge and Ceci patiently and earnestly made sense of our rudimentary Spanish, that we would enjoy together that year.
Years later, in 2008, we returned to El Salvador, with our two young daughters in tow, to work with ENLACE staff to build the organization's research and evaluation department. The work focused on implementing a comprehensive study of multi-dimensional poverty in one of the communities where ENLACE partnered with local churches in the work of transformation.
The Village of Los Abelines
Our first project began in the village of Los Abelines, where we worked with Pastor Victorio Paz who served at the Piedra Angular Church. During one of our stays in the Paz home, Pastor Victorio and I spent the evening talking about our families. He seemed delighted, and perhaps a little surprised when I shared about my maternal grandfather, who grew up on a peanut farm in south Georgia. Pastor Victorio, who made a living by cultivating corn and beans, asked if I had any farming know-how. I explained that the little I knew about farming came from the summer home gardens my parents sometimes planted when I was a kid. In other words, not much.
At the end of the week, when our team was nearing the completion of the project, Pastor Victorio pulled me aside to ask if I would like to try out a bit of farming. The invitation was one I could not refuse, even if I had no idea about what it would actually involve. What he proposed, however, caught me by surprise.
Pastor Victorio had set aside a half-acre plot of his family's land where I could sow, cultivate, and harvest beans. Truth be told, my contribution to caring for the beans ended up being quite limited. Living in San Salvador meant that my visits to the bean plot were infrequent, and only when I could accompany one of the ENLACE church coaches to Los Abelines. Months later, when our team returned to finish up the research project, I spent an entire morning harvesting the beans. That evening I joined Pastor Victorio, his wife Fide, and seven of their children under the awning of the church's fellowship "hall" to clean the beans. We sat together and worked late into the night, laughing frequently as I fumbled through the tasks of sifting and shucking the beans.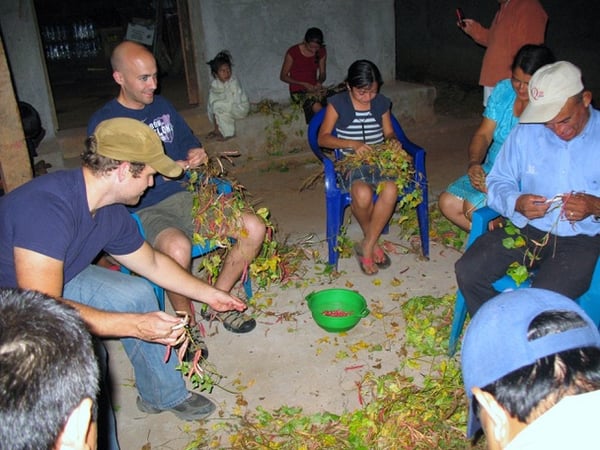 The abundant harvest yielded far more beans than I could possibly take home. Most of the harvest was shared with church members or given to neighboring families in need. When my family and I returned to the US later in December, I was careful to leave space in my suitcase for a two-pound bag of dried beans.
Living and working off and on in El Salvador over the course of ten years has been a profoundly enriching experience for me as a professional. From my ENLACE colleagues I continue to learn so very much – about how to effectively manage complex projects, about how to use evaluation research to better understand and improve practice, and about how to encourage and mobilize people to work for good change in the places where they worship, work, and live. The value of such gifts of professional know-how is inestimable. And they have deepened my love for working collaboratively with young people as we cultivate a love for lifelong learning and develop our capacities to work creatively for the good of others.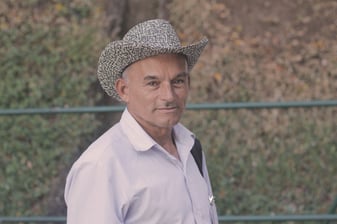 Still, there were greater gifts that I received from those who befriended me there. However mundane a Whopper Jr and a bag of beans may seem, for me they remain powerful reminders of the enduring effects of hospitality. Perhaps for some, hospitality seems a quaint, even nice, idea. And I imagine that some of us associate it with habits that we exercise every now and then, like when we invite close friends over and entertain them with a good meal. But such notions fail to capture the full weight and beauty of the hospitality shown to us by the Herrera and Paz families.
Both families searched for practical ways to relate meaningfully to us as guests and strangers. By providing a meal from home. By listening to stories about our family and life experience. By thinking creatively about how to bridge our differences. By sharing their time, resources, and know-how to help us live life more fully in an unfamiliar place and culture. By welcoming us to learn about what is familiar, routine, and meaningful to them even as they appreciated and affirmed what they learned about us. What we brought home with us from El Salvador was more than a bag of beans and some professional know-how. We carried with us a practical vision for a life well-lived – a life characterized by ordinarily extending generous care for the stranger. From the Herrera and Paz families, we learned what practicing hospitality looks like in practice.
I've often wondered, what does it look like to not neglect to show hospitality to strangers, as we are asked to do by the author of Hebrews? A quick review of neglect's antonyms is suggestive of the grand scope of the invocation: to appreciate, value, cherish, treasure, nurture, remember, listen to, watch, attend to, and follow, among many others. Such words touch on the core of who we are and of who we give our time, energy, and attention to. What and who we care about, we do not neglect. Our hope and prayer today, as we build our life in Wheaton, Illinois, is to live out the example that we learned from those who welcomed us in El Salvador. That we would be people who remain steadfast and energetic in showing hospitality to the strangers we meet in our workplaces, neighborhood, and community.
Do you have a story about how working abroad with ENLACE has impacted your life? We'd love to share it! Contact us by email or on social media!
---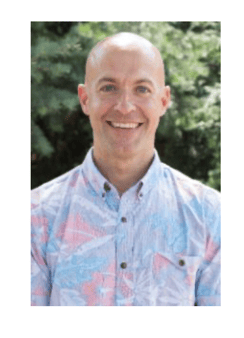 James (Jamie) G. Huff Jr. received his Ph.D. in Cultural Anthropology from American University (Washington, DC) in 2004, and worked as Associate Professor of Anthropology at Vanguard University (2002-2014) prior to his faculty appointment to the Human Needs and Global Resources Program at Wheaton College. His scholarly interests focus on international and rural community development, religion in Latin America, faith-rooted social movements and non-government organizations (NGOs), and comprehensive community initiatives. He also has an interest in the pedagogy of study abroad programs and cross-cultural learning. His writing examines the changing religious landscapes of contemporary Latin America, with a particular focus on the social and economic changes generated by the rapid growth of Pentecostal-charismatic forms of Christianity across the region.
For the past decade, he has regularly conducted ethnographic fieldwork in El Salvador, where he has documented the involvement of Pentecostal churches in community-based development projects. As an applied anthropologist, Dr. Huff has worked with various NGOs and community-based organizations to evaluate the effectiveness of their programs to alleviate poverty and strengthen human well-being and community resiliency. Since 2008, he has worked collaboratively with the staff of a Christian non-profit organization (ENLACE) to implement evaluation studies that assess the impact of local development initiatives on the social, economic and physical well-being of rural communities across El Salvador.