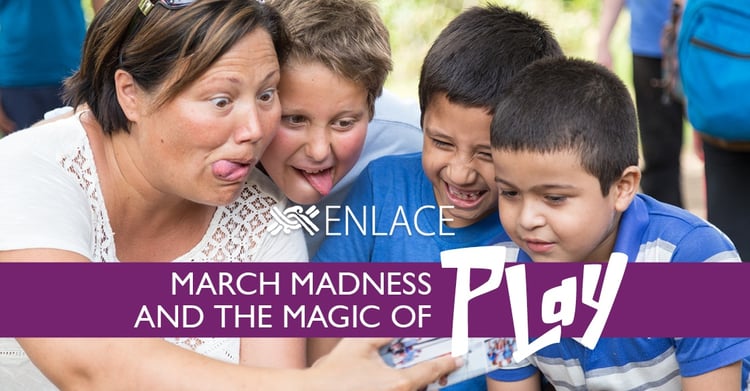 March Madness Basketball is upon us! Is your #Bracket already #Busted?
If so, why not take a moment to find some cheer?
Take away the cameras, the glitz, and the rivalries of March's NCAA basketball games and all we're really watching (albeit with bated breath) is a group of five people working together to get a ball into a net. In the end, people are playing a game.
While national pastimes of El Salvador and Nepal do not include much basketball, the enjoyment of playing sports like soccer (or futbol), badminton, ping pong, or other activities like flying kites, playing cards and yoga are important aspects of community life.
(Video footage courtesy of Felix Orellana, ENLACE Nepal Church Coach.)
Many churches that join ENLACE's Church and Community Program have discovered that collaborating on projects such as playgrounds and recreation centers cultivates strong community connectedness. This is partially due to the fact that play creates space for joy and creativity in which barriers can be softened and crossed and new friendships formed. And since relationship building is one of the key components of poverty alleviation, playing together can take on a vital role.
Click here to donate to ENLACE's Church and Community Program in El Salvador and Nepal.
Playing together is also one of the best ways that short-term service teams get to know the people they have come to support, as recent mother-son pair, Priscilla and Beck McKinney, discovered.
Beck had spent a year raising money for eco-stoves and then traveled to El Salvador to meet some of the families who benefitted from this life-saving project. "I didn't know Spanish," said Beck, "but I knew how to play soccer. When I played with the kids in the village we visited, we communicated by knowing the same sport. And we had fun."
Priscilla concurred. "We had a wonderful time playing games after touring the community and meeting various beneficiaries. Respect, care, love can all be communicated through play. It was a wonderful experience just to kick a ball around and laugh together. No one can take themselves too seriously when you're playing duck duck goose or falling over your own feet trying to make a goal… The lines of privilege were blurred and we all just hung out."
Interested in connecting to a church that's creating joy and laughter in its community?
Start here with this Guide.