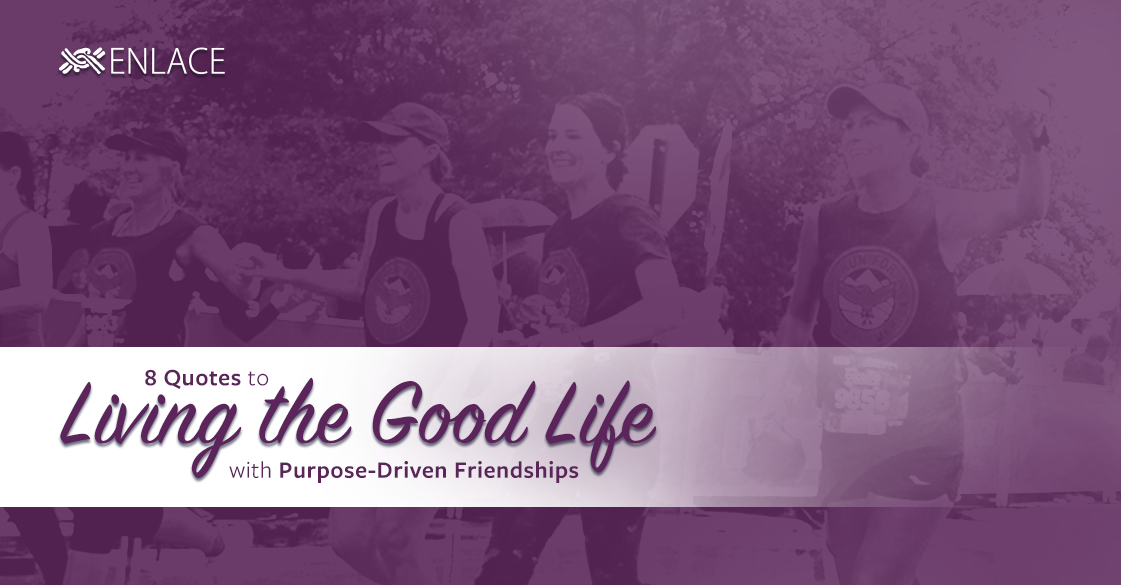 "Each friend represents a world in us, a world possibly not born until they arrive, and it is only by this meeting that a new world is born."



– Anais Nin
For just about all of us, it's hard to imagine a life without friends. Some of the best ones have accompanied us through our lives in times of plenty and in seasons of difficulty. Others may have graced our lives for just a short while, but in that time something brilliant grew and we are forever changed.
The lauds to friendship are plentiful, and to most of us, as noted by the author Linda Grayson, the only thing better than a friend is a friend with chocolate.
"There is nothing better than a friend, unless it is a friend with chocolate."
– Linda Grayson
Friends Are Good For Us
But indeed friends make our lives better in so many ways - with or without chocolate.
And as it turns out, spending time with good friends is as close to a doctor's prescription that we can write for ourselves. Scientific studies have shown that good friends make us happier, healthier and promote a better quality of life.
Hilary Rudman learned from her other that good friends build you up. And the best ones make you laugh. Making one's life happier was just what was needed when Hilary, who lives near Kansas City and works in retail, lost her mother to cancer. "My mama was my best friend and when she died, I was heartbroken. My friends were there for me around the clock. I always knew I was surrounded by wonderful women, but I didn't realize until then just how much I needed them. People say that time heals all wounds. I doubt that, but I do think friends make that time a lot easier."
Friends also make us healthier, as native Chicagoan, Laura Tinsman, a registered nurse living in Overland Park, Kansas, said when she talked about what good friendships have meant to her. "A friend is someone who supports you and encourages you to be the very best you can be. My friend and I share our daily activity via our Apple watches. We are constantly trying to outdo each other to become healthier versions of ourselves."
True friends are companions that have impacted our lives in profound ways. Whether during grief or through the normal routines of life, we rely on friends to pull us through and make life richer. Good friends can scarce come to mind without a simultaneously thought of gratitude.

"In everyone's life, at some time, our inner fire goes out. It is then burst into flame by an encounter with another human being. We should all be thankful for those people who rekindle the inner spirit."
– Albert Schweitzer
Friends Can Be Tricky
But it's hard to nourish our relationships when we can hardly find time to handle the rest of life's responsibilities. After children, family life, and work have made their demands, it can be difficult to figure out how to weave in quality time both for ourselves and our friends.
Not all friendships are equal. Sometimes a lack of attention has led our friendships into dry patches. And at other times, as our lives have developed and we ourselves change, some friends want to grow with you and others do not. In the worst case scenarios, our experience with some friends has been toxic, leaving us with a hesitancy to develop new friendships as we get older.
"No person is your friend who demands your silence, or denies your right to grow."
– Alice Walker
Friendships Are Essential for a Long and Healthy Life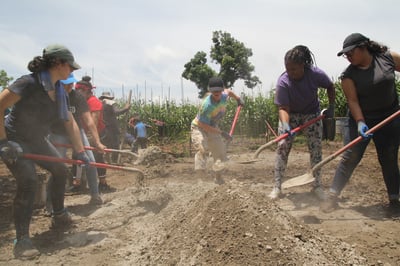 And yet friendships are incredibly important. Especially as we get older. As our bodies and minds traverse the "ravages of time," we need the connection of true friends more and more. Not only do good friends make us laugh and reduce loneliness, but they also boost our self-worth, reduce stress, and help us cope with trauma and grief. Studies have even shown that friendships reduce depression and high blood pressure. They also promote a good weight! Sign me up!
The upshot is that even if we're living a busy life and can't seem to squeeze out one more minute, it's super important to figure out how to make time for good friends.
How to Start Building Stronger Friendships: Be That Friend

So what are some ways we can write that doctor's prescription? The first step it to be the friend you want to see in the world! Instead of approaching people as "what you can do for me," people who create and maintain friendships into older life first seek to be a good friend to others.
"If you go looking for a friend, you're going to find they're very scarce. If you go out to be a friend, you'll find them everywhere."
– Zig Ziglar
Passion & Purpose: Two Keys to Building Good Friendships
The second step is to take your friendships to a deeper, purpose-driven level. As you know, the difference between a friend and an aquaintance is the nature of the relationship. If the relationship has been forged while waiting in the line at the DMV, most likely you will be friendly and commiserate, but you're not going to call the person up later to find out how the colonoscopy went. (My sincere wish is that you didn't find out about the colonoscopy in the first place. But I digress...)
The truth is, the depth of commitment we have to someone is mirrored by the depth of our experiences together. War veterans often refer to their fellow-soldiers not even as friends but as brothers-in-arms. That's how much death and suffering bind us together.
"There are "friends" who destroy each other, but a real friend sticks closer than a brother."

– Proverbs 18:24
Luckily, creating good friendships doesn't require war-time conditions. But there is something to be said for forging new friendships or nourishing our old friendships while doing something that's soulful. The more meaningful the engagement the more meaningful the friend.
So HOW do we create or nourish the friendships that help us all to grow?
One way is to overlap your love for God and neighbor (passion) with effective service (purpose). When we join with our spouses, children, and indeed, friends, with the intent to shine God's love in a world that is suffering, we forge deep bonds. We often become as close as family.
"Our team did much more than run together… we united for something that mattered."
– Holly-Rae Van Hoof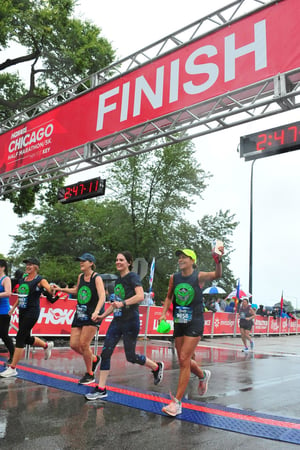 Recently, this has happened with the Run for Central America half marathon training groups. Running and mission team leader, Holly-Rae Van Hoof from Eastview Church (Normal, Illinois), described what training for a half marathon to raise money for Central Americans in crisis forged in their church group this year
Holly-Rae's Story:
Our mission team became a family this summer, with our hearts and minds united, as we worked for families in crisis. In this world, we have to endure hard things, things we would never choose. This was a time that we came together and chose something hard to do, for those that don't have the choice. The people of Central America desperately need our help, and this mission team of runners rose to the challenge, raising awareness and financial support each step of the way.
This mission team proved that God doesn't call the equipped, but he equips the called. When we started raising support and training for this race, we had no idea how we would get to the start line OR the finish line. But God is so good, and brought the right encouragement and support alongside each mission runner. There's something exponentially unifying about struggling and sweating together, all the while knowing that we are doing it for a higher purpose. When you serve together, the bonds of faith strengthen and flourish.
Ecclesiastes 4:9 tells us that we are better together: when one falls, the other can help them up. This summer, our mission running team did exactly that. We each took a turn struggling, encouraging, supporting the other, and in the end, we were much better together than as individuals.
"Friendship is born at that moment when one person says to another: "What! You too? I thought I was the only one."
– C.S. Lewis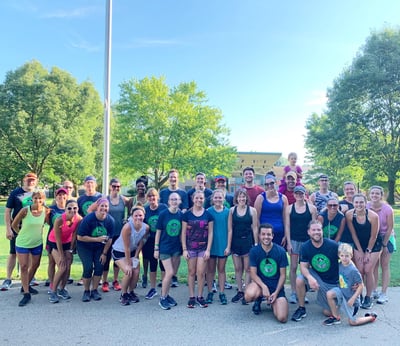 If you and a friend are looking for ways to enliven your friendships with passion and purpose, why not join a service project locally or even join our Run for Central America team! In 2020, teams will be racing in El Salvador, Long Beach, Chicago and Des Moines, raising funds for people in need in Central America and building friendships! Contact Mark Haugen (mhaugen@enlace.link) for more information.