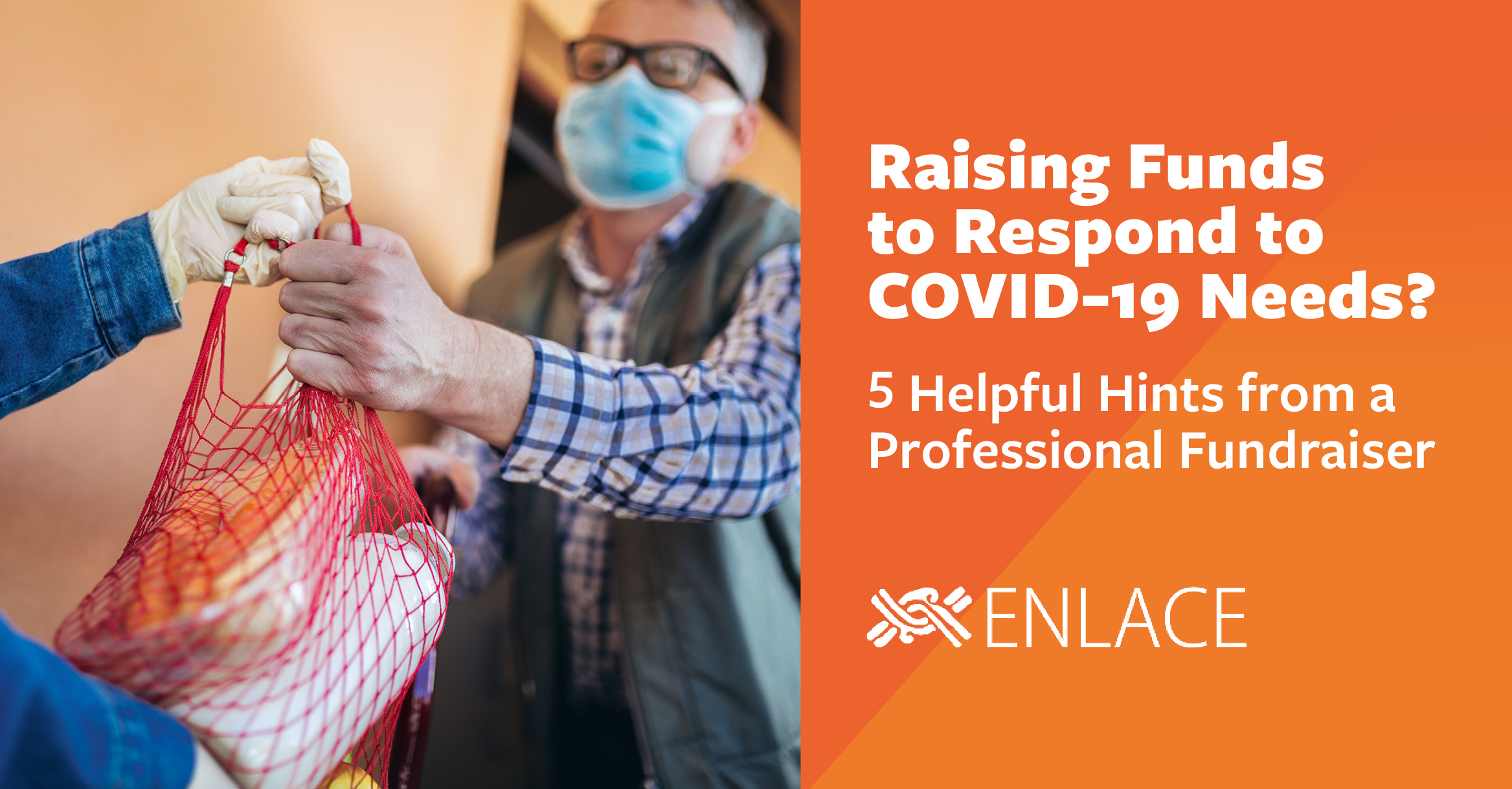 For many of us there have been times in our lives that we've heard a story or met a person or come upon a situation and been moved to give money or donate from our own resources. At other times we have been so moved that we want to take on an even bigger role by advocating the cause to others. We have a conviction that if more people knew about this need, they would also want to help. The vision of seeing more and more people combine their resources to make an even greater impact is both exciting but also daunting. Right now with so many needs coming to light due to the coronavirus pandemic, many of us are falling into that second category. We've become amateur fundraisers, trying to raise awareness and resources for people struggling to make it through.
Learn More About ENLACE's
COVID-19 Relief and Recovery Plan
Whether you are raising funds for first responders, or local families and shelters, or for relief and recovery efforts among impoverished populations, the following Q & A with ENLACE's professional fundraiser, David McGee, might prove useful as you serve your world through compassionate fundraising and bring hope to those struggling through this incredibly difficult time.


Q: As a professional fundraiser, what are some of the biggest misconceptions about fundraising?
A huge misconception is that fancy websites and shiny strategic fundraising plans will automatically bring in people to your cause and raise money. Also, I've struggled with thinking that other people would easily be able to see the uniqueness of what we do. And while many people are able to analyze and decipher the differences between different models of community development, most people just want to know that they personally are contributing significantly to something that matters...and isn't that what we all want? We all want meaning and belonging.


Q: For those who are new to fundraising, how can you help them in that role? What mindset do you have to have to be an effective fundraiser or take the fear out of fundraising?
The thing that has helped to do a "good/effective" job is focusing on relationships. At a local community level we believe that true impact comes through relationships, through the restoration of broken ties between God and me, me and myself, and between me and my neighbors (near and far, like and unlike me). If we believe that notion for local community development it would be disintegrous (new word;) to believe anything different for fundraising. Relationship is king and fundraising is simply inviting people to join alongside the incredible things God is already doing.
Q: You're responsible for raising between about $1-$2M each year. For someone wanting to join a fundraising event like a charity race and has to raise something like $600 - which is a big amount when fundraising isn't your job! What's your advice for them?
Fundraising can get overwhelming. You can feel like you're always in a hole, always behind, that there is always more to do. You can think, "if I don't do this well, people won't get clean water, people won't get houses. Look at all this work these local churches and communities have already done! I better damn well do my part to catch up with them!" But that mindset is absolutely unsustainable. That is a perfect prescription for burnout.

We have to start with appreciation and gratefulness
for all that God has already provided.

Yes, we have to do our job well and implement the best strategies, plans, websites, campaigns that we can. But we have to start with appreciating all that we have in hand (especially relationships) and work with that first.
Q: What is your greatest part of your job as a professional fundraiser?
It's my greatest job fulfillment when people get to feel that they're contributing something significant to what matters in life. I love when people feel that way through their engagement with ENLACE. As they join their resources alongside the resources of our heroes, which are the church and community leaders working day in and day out in their own poor communities, they can be certain that what they're doing makes a HUGE difference. In that way, donors who give directly and fundraise for ENLACE are also my heroes. Considering all the ways we can spend our time and money, the fact that people decide to give sacrificially to this cause is awe-inspiring.
Q: Any last thoughts that might help someone wanting to raise funds for COVID-19 relief and recovery?
This is a resolution statement that I tried to commit to last year. It helped me have the right fundraising mindset. It might be something useful for people wanting to contribute their time to fundraising:
I woke up on a spinning piece of rock that just perfectly orbited a star again. I breathe the perfect amount of air through a set of lungs that feeds my body with oxygen which in turn pumps my heart and feeds my discerning mind allowing me to be cognizant of all of this. I live in a heated box with food, water, and a few toilets. I even have a metal box that carries me away to wherever I want to go at ridiculous speeds.
All day long, I get to join incredible people who are making the world an even better place to live for thousands of people. I share this life with the most amazing person I have ever met. We change together. We grow together. We created two other little people who teach and amaze us every day.
A resolution for the next trip around our star? To be aware. To be thankful. Everything is bonus.
---
$60 provides 1 family of 5 with food and basic essentials for a month.
Or join the ENLACE Coffee Program for $40 a month and your giving will come with a perk!