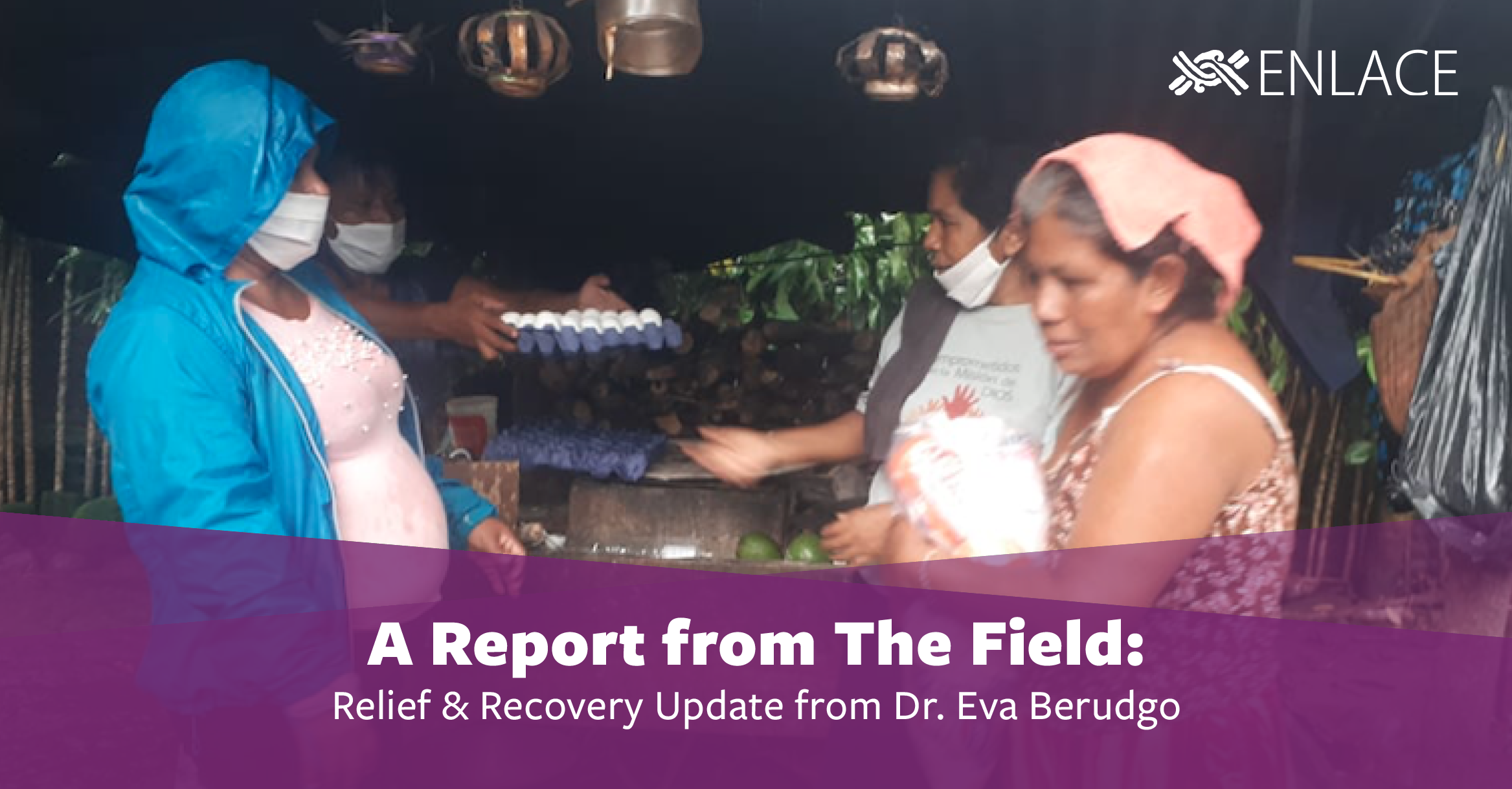 With the onset of the global COVID-19 pandemic, ENLACE began a major pivot in our year's community development plan and began to provide relief as early as April in Central America. It's been an incredible effort by hundreds of devoted people. One of our superheroes during this transition has been Dr. Eva Berdugo. Dr. Eva is coordinating all relief and efforts in El Salvador, Guatemala, and Nepal. Not only has she been instrumental in designing and managing day-to-day operations and communications, but she has also helped to provide solid and capable leadership as ENLACE turns now toward recovery.

Learn more about ENLACE's robust Relief and Recovery effort.
As of August 1, El Salvador reported around 16,000 cases of COVID-19 and almost 500 deaths. (Perspectively, El Salvador's numbers are comparable to those of Missouri.) Guatemala reported roughly 48,000 cases and nearly 2,000 deaths. Nepal reported almost 20,000 cases, but only 49 deaths. Unfortunately, many cases in El Salvador, Guatemala, and Nepal may be significantly underreported. Specifically, the mayor of San Salvador reported 800 deaths in the city alone.
Dr. Eva says the response to both the economic and health catastrophes that accompany COVID-19 has been "absolutely incredible."
2.7 million meals have been delivered to families in El Salvador, Guatemala, and Nepal.
75% of these meals have been mobilized and delivered by local resources.
Though COVID-19 has been a devastating and horrific season for so many worldwide, the work being done by Dr. Eva and her team is truly a breath of fresh air.
Join us for Coffee with ENLACE every Thursday morning
@ 9:30 am CST on Facebook!
The ENLACE team will be completing the relief stage by the end of the summer and transition into recovery with a special focus on micro-finance recovery loans and agricultural support to farmers. ENLACE's sister program, CREDATEC, which has provided micro-finance loans and business training since 1998 will begin to create refinancing and loan offerings that will respond to the extreme situations that entrepreneurs and farmers are facing at this moment. Education programs have been initiated to provide children with supplemental schooling and families with mental health counseling.
For a more detailed discussion on what the recovery effort will entail, watch this video with Dr. Ron Bueno, starting with minute 13.
Seeds and technical assistant inputs will be given out to allow individuals to feed themselves and not rely on the basic necessities that have been provided up until this point. These agriculture investments will allow families to feed themselves for six months to a year. Farmers have been recently targeted by Storm Amanda and COVID alike. These agriculture investments will help farmers get back on their feet, and allow new families to participate in food growth and development. Two weeks after planting season Storm Amanda forced two feet of water from the sky, wiping out the entire production season. This makes the fall planting season simply invaluable.
As Dr. Eva attests to it's been an incredibly taxing season for everyone at ENLACE, but through the devotion of staff, partners, and incredible donors, we are given such an amazing reason to hope for the future.
Subscribe to the Coffee with ENLACE Video Series on YouTube