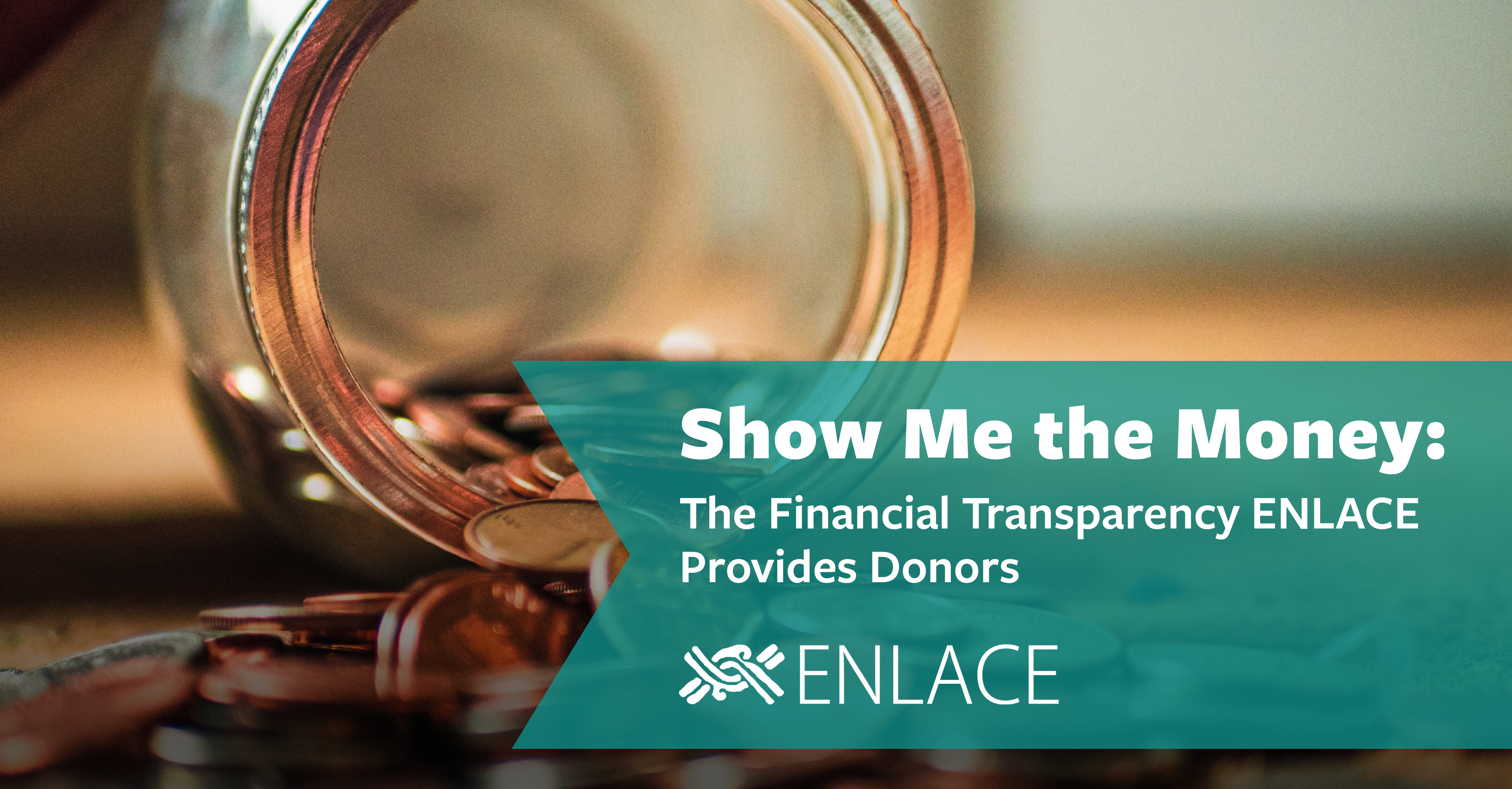 Finding trustworthy non profit organizations that truly make an impact in the world is as important today as ever. Even as the problems associated with the recent pandemic combine with long-standing issues of poverty creating a devastating blow to extremely vulnerable populations, opportunist organizations demonstrate a credibility gap, a vast difference between what is promised and what is delivered.
ENLACE was established in 1993 and has always strived to demonstrate its trustworthiness both financially and operationally. Every year, as our funding has grown alongside the number of churches and communities we serve, we've been so grateful to our donors for their faith in us and in our reporting. We are so thankful to be at the top of their charitable organizations list. This transparency will never cease. To this end, we invited ENLACE CFO Frederick McGough to address our most common questions with regards to ENLACE's use of gifts.
Learn More About ENLACE's Relief & Recovery Effort!


---
Q: When I donate to ENLACE,
where does my money go?
The answer to this depends on what type of donation you are making. ENLACE is fortunate to have donors who make unrestricted donations that allow us to utilize the funding where most need. We are also blessed by restricted donations for programs and projects in the communities we serve in El Salvador, Guatemala, and Nepal. In this case, ten percent of your donation remains with ENLACE USA for operational costs, and the remaining ninety percent is forwarded to our affiliated organizations to facilitate the program or project.
Q: Are my donations tax-deductible?
The simple answer is yes, your donations are tax-deductible. ENLACE USA is a 501c(3) charitable organization and each January provides our donors a year-end tax donation letter for the previous year. There are some cases in which the donor receives some form of benefit from their donation. For example, if you participate in our monthly ENLACE Coffee Club, the fair market value of the coffee you receive is not allowed as a tax deduction but beyond that, it is tax-deductible.
Q: Is ENLACE audited?
Can you tell me a little bit about its financial accountability?
ENLACE USA has had its financial statements audited or reviewed without any issues by Capin Crouse LLP since 2012. ENLACE USA also timely files nonprofit Federal Form 990 and California Form 199 each year. You can find all these documents on our website. We are also a registered charity with Charity Navigator.
Q: How does ENLACE use my donations?
How do they make an impact?
ENLACE's end all mission is community transformation, and all donations impact this goal. ENLACE's process involves walking alongside local churches as they reach out to and work with their communities, which takes time and resources. Your support, whether it be financial or other means (i.e. participating in a serving team), is the lifeblood of our organization. For example, when you fund an eco-stove, it specifically provides one family a significantly healthier and more economical means to cook their meals. Yet that one clean cookstove is also part of a broader community project in which all stakeholders in the community collaborate on to complete. These and other collaborative efforts led by a local church working with its community build on each other and over time this leads to restoration of relationships in the community and with God.
And right now as we enter an Emergency Relief & Recovery phase as a response to the COVID-19 pandemic, every dollar raised that is designated to relief and recovery will help families that are falling through the cracks. Donations are being processed quickly while food and essentials are being provided to families on the ground right now. Each $60 donation provides one family with food and essentials for a month. We are hoping to help 12,500 people over the next few months who can't put food on their tables due to job loss and/or lack of accessibility to government relief within the communities we serve in three countries.
Q: Is my money leveraged in any way in the
communities that ENLACE serves?
One of ENLACE's fundamental principles is that all projects are "owned" by the community, which means they are identified, managed, and sustained by the local participants. Furthermore, ENLACE's goal is to provide less than one-half of the direct costs of a project. Therefore, we train the community on how to fund their 50% share of projects by either providing labor, intra-community funding or finding other financial sources, like their mayor's office, the national government, and other nonprofit organizations.
Q: How can I help right now?
There are 3 ways you can make a huge impact right now.


Cash donations are immediate and super effective in providing us the ability to respond to needs right away.

Use our safe and secure online portal to make a donation now.

When you sign up to give monthly to ENLACE, freshly roasted specialty coffee from Central America will be delivered to your doorstep every month.

If you sign up soon, you will also receive an AeroPress coffee brewer while supplies last.

If walking or running is your thing, we're hosting a series of races this year.

While we don't know which ones will be "live" yet you can sign up for our virtual 5K Hot Tamale Run.